Description
Inexpensive Portable clamp on ultrasonic flow meter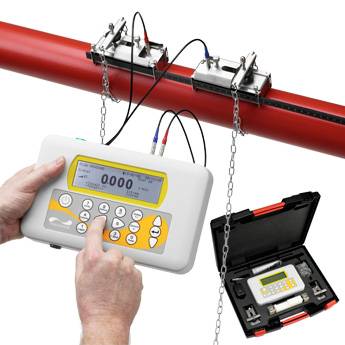 Inexpensive Portable clamp on ultrasonic flow meter. Moreover, the PF220 is incredibly durable, thanks to its sturdy, lightweight casing and easy-to-read OLED screen. In addition, the device's versatility and versatility-enhancing features ensure that the device can be utilized in a multitude of circumstances, making it highly valuable to a broad range of customers. Consequently, its broad applicability has contributed to the PF220's rapidly growing popularity, as it is rapidly becoming one of the go-to products for anyone in need of reliable, instant flow readings. Altogether, this remarkable product is an example of a truly cutting-edge technological achievement that has truly changed the game for portable ultrasonic flow meters.
0.51-4.5″ OD, 2-40″ OD, or Both
Up to 275°F
No Data Logging
The PF220 is renowned for its durable, lightweight casing and crystal clear OLED screen. Furthermore, it has versatility-enhancing features that give it wide-ranging use, making it incredibly valuable to a range of customers. Its remarkable breadth of applicability has helped the PF220 become one of the most sought-after products when needing instant flow readings. It is an example of cutting-edge technology that has revolutionized portable ultrasonic flow meters.  The user interface allows for easy and quick data viewing, plus tracking of trends and liquid flow, resulting in trusty readings plus a data logging feature for storing changes for future use and reporting. Thus, make the most of this reliable, robust and durable device for an efficient system performance.
PF220 meters offer simple setup and no process interruptions. Securely attach transducers to pipes and monitor flow readings and trends. Nonvolatile memory saves site data. This User-friendly and reliable device gives insights to enhance process.